May 2021 – San Diego, CA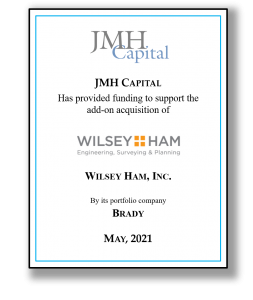 JMH CAPITAL PARTNERS' ("JMH") along with its portfolio company, Richard Brady & Associates ("BRADY"), a Southern California engineering firm providing complex design engineering, electrical engineering, and construction management services to water infrastructure, power utility, and telecommunications clients, has acquired Wilsey Ham, Inc. ("Wilsey Ham"), a northern California civil engineering and land surveying firm serving both public and private sectors.  The addition of Wilsey Ham expands Brady's geographic reach and technical capabilities to further support the engineering needs of clients throughout California.Rick Brady, Chief Executive Officer of BRADY, said, "The addition of Wilsey Ham, in San Mateo, represents a tremendous addition to the BRADY family.  Their rich 79 year history of engineering excellence is a terrific complement to the work we have done across the country.  We are excited to offer our respective clients a broader set of technical capabilities to support their critical engineering needs.""Most importantly, we could see from the beginning a clear alignment of values and cultures among the firms," said Bill Siegel, Chairman of JMH's buy-and-build strategy in engineering.  "Core to our strategy is providing exceptional service to clients, and the best possible place of employment for the industry's best talent."Jeff Peterson, Wilsey Ham's President, said, "Through this process it was critical for us to find an ownership transition solution that offered a good home for our employees and gave us confidence that our clients would continue to receive the outstanding quality and service they have come to expect from Wilsey Ham.  We believe our team will thrive in the combined organization and our clients will benefit from expanded capabilities and capacity."
About Wilsey Ham
Located in San Mateo, California, Wilsey Ham is a civil engineering and land surveying firm catering to the public and private sectors. The Company's full range of services includes civil engineering, land surveying, planning services, public works, municipal engineering, and utility engineering services.  Over the course of its 79-year operating history, Wilsey Ham has developed an outstanding reputation, and is well known for the reliability and quality of its service.
About BRADY
Headquartered in San Diego, BRADY is an engineering firm providing design engineering for a full range of water purification, pump station, pipeline, and reservoir infrastructure for southern California's most important municipalities and water districts.  In addition, BRADY provides electrical engineering, construction management, and program management services to telecommunications and power utility clients in the region.
About JMH Capital Partners
JMH Capital Partners is a private equity firm dedicated to nurturing companies with excellent growth potential, but lacking the resources to double or triple their size.  JMH invests in established businesses that are revenue generating, have a unique market position, and exceptional profit potential.  JMH typically partners with business owners who are looking to transition their business or need capital to lead their company into its next chapter of growth.
MULTI-SECTOR SPECIALISTS
Industrial | Services | Consumer